Well hello there! It has been a while, and I apologize for that. These past couple of weeks have been very busy (in a good way). Let me bring you up to speed on some of the things that have been going on.
About two weeks ago I was in Healdsburg, CA at the wonderful Barbier Farm for their spring symposium. Many of the horses I have painted have come from that farm. They have a beautiful barn with many stunning and talented horses. It is always a pleasure to visit.
After I got back from my trip up north, I began to move into my new studio. Yes, I finally outgrew my home studio, and decided my business was mature enough to move out of the house! But in all seriousness, I am delighted to be a part of ArtHatch/Distinction Gallery in Escondido, CA!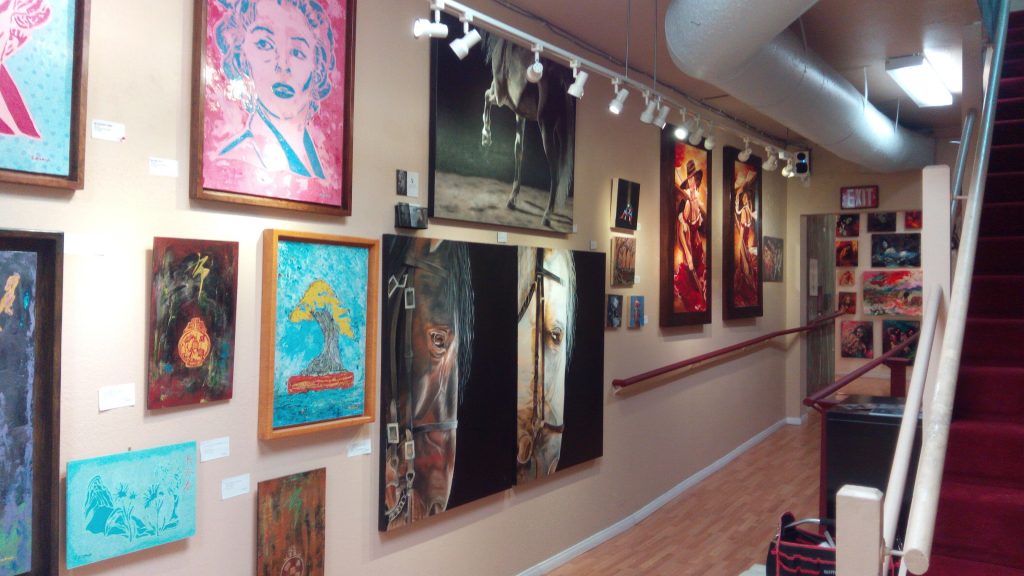 My work hanging in ArtHatch/Distinction Gallery.
After my last show in 2016, I realized rather quickly that I was running out of space. Going to the art/horse shows last year had required me to invest in some show equipment. That, plus the canvases, prints, and other supplies/stock I had, made an already cramped situation into an even more cramped situation.
This caused me to slow down on the amount of work I was creating because I simply had no space to store the finished pieces. That was the other sad thing – these pieces were hanging in my guest bedroom not getting any visibility.
ArtHatch/Distinction Gallery has regular hours, as well as an opening every month (usually on a Saturday). The next one is March 11th from 6-10 pm. If you are in the Escondido area, I encourage you to go take a look at my work in person. I promise you will not be disappointed, but if by chance my work doesn't interest you, there are several other artists in the gallery who are absolutely amazing. There is something for everyone!
I think that is all from me for today. As always, if you have a comment, question, or concern (hopefully no concerns!), leave me a comment below! I always love to hear from you, and take care!
[shopify embed_type="product" shop="fineartbysarah.myshopify.com" product_handle="sedoso-5-x-7-limited-edition-matted-print-1″ show="all"] [shopify embed_type="product" shop="fineartbysarah.myshopify.com" product_handle="ventain-5-x-7-limited-edition-matted-print" show="all"] [shopify embed_type="product" shop="fineartbysarah.myshopify.com" product_handle="solitary-bliss-limited-edition-giclees-prints" show="all"]